---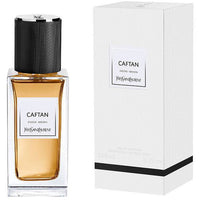 Yves Saint Laurent YSL Caftan 75ml
Yves Saint Laurent
*DISCONTINUED GEM - NOT AVAILABLE ANYWHERE ELSE!
Inspired by the emblematic creations of Monsieur Saint Laurent, LE VESTIAIRE DES PARFUMS is a collection of fragrances that each interprets a centrepiece of the couturier's wardrobe. TUXEDO, CABAN, SAHARIENNE, BLOUSE, CAFTAN: signature scents with couture sensibility. This exclusive collection truly encapsulates the Yves Saint Laurent style and spirit.
LE VESTIAIRE DES PARFUMS – CAFTAN With its intense colour, seductive loose fit and floating cut, the caftan encapsulates the intoxicating mystery of the Eastern world. Monsieur Saint Laurent discovered the caftan during his stays in Marrakech and reinterpreted the garment with his unique signature and compelling modernity. This emblem of the East became a show-stopping alternative to the classical evening dress.
CAFTAN reveals its refinement in an architectural bottle of sheer, square-cut glass. The ornamental jewel cap mirrors the "grain de poudre" texture of Monsieur Saint Laurent's beloved tuxedo fabric.
CAFTAN Eau de Parfum is a floating veil of incense embroidered with an opulent benzoin. An evocation of the East, between intense colours and indolent warmth. Rose - Incense - Pepper and Amber notes.
Top note: Pink Pepper / Bergamot / Green Tangerine
Heart note: Olibanum Essense / Benzoin
Base note: Musk
The Olfactory Signature - Incense and Benzoin. The Olfactive Family - Oriental Spicy.