---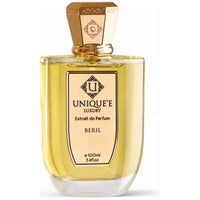 Sale
Unique'e Luxury Beril 100ml
Unique'e Luxury
Sale price £135.00 Regular price £232.00
Indulge in the sheer opulence and sophistication of "Beril," an extraordinary fragrance that will captivate your senses from the very first spritz.
As the fragrance unfolds, you'll be greeted by the sweet and invigorating aroma of citrusy amber, imbued with a delicate hint of rose that adds an air of romance and sensuality.
As the fragrance develops further, it reveals a warm and woody heart, infused with the unmistakable scents of patchouli and vetiver. The sweet, watery citruses intermingle with a soft rose, accentuated by delicate spices and the richness of amber.
The fragrance is both uplifting and soothing, invoking a sense of cleanliness and purity that will leave you feeling invigorated and refreshed. The rose note in this fragrance is like nothing you've ever experienced before - it is absolutely stunning, and sure to leave a lasting impression on all those who encounter it.
Crafted to perfection, this fragrance is a true masterpiece that exudes sophistication and elegance. It is an ideal choice for those seeking a fragrance that is both refreshing and comforting, and perfect for any occasion.
Experience the power of "Beril" today, and indulge in the ultimate sensory experience. With its stunning aroma, exceptional longevity, and impeccable performance, this fragrance is sure to become your go-to choice for all occasions.